Baseball wins series Against St. Thomas Aquinas for the first time since 2010
Mavericks earn series win over ECC rival St. Thomas Aquinas.
Mercy earned a 7-6 victory over their ECC rival St. Thomas Aquinas for the first time in nearly a decade.
Junior John Mooradian had a huge game earning 4 RBIs for the Mavericks. He was also a perfect 4-for-4 on the day. This win secured their first season series win over St. Thomas Aquinas since 2010.
Senior third basemen Joseph Sadallah knocked in two runs for the Mavericks. Junior pitcher Luis Grullart pitched 6.1 innings with three runs allowed in the ball game. Junior pitcher Andrew Hernandez pitched a scoreless ninth inning to earn the save and the victory for the Mavericks.
Andrew Jemison went 2-for-4 for St. Thomas Aquinas and batted in three RBIs. The Spartans started off the scoring affair in the top of the first and led the Mavericks, 1-1. This score remained until the bottom of the fifth inning. The Mavericks then took a 2-1 lead to be in control of the game. Outfielder Adonis Garcia hit a single to start off the hitting with a single. Later Luis Grullart got hit by a pitch which advanced Garcia to second. A groundout then advanced runners, and later senior Nicolas Hagerty brought Garcia home due to a sacrifice fly ball. Grullart came in on a wild ball and the Mavericks got the lead.
In the sixth inning, the Mavericks advanced their lead to 3-1. The seventh inning was big for the Spartans as they scored five runs and took a 6-3 lead in the ball game. The Mavs fired back by scoring three runs to even up the ball game.
Mercy was able to take a 7-6 lead in the eighth inning due to a wild pitch which brought outfielder Anthony Murphy in to score. Pitcher Andrew Hernandez then allowed no runs in the ninth which helped the Mavericks secure a victory.
The Mavericks and Head Coach Chris Schoen will look the build on this victory as they they host Lincoln at 3 p.m. on Friday, April 26th.
Leave a Comment
About the Contributor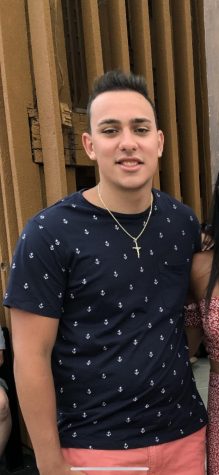 Michael Panteleo, Impact Staff
Michael Panteleo is a senior and studies journalism at Mercy College. He enjoys writing, watching, and playing football and basketball. He is a member...