6 Underappreciated Alternative Artists
Motion City Soundtrack
A five member American rock band from Minneapolis, Minnesota. They formed in 1997 and have been making music since. Their music is relatable because of the lyrics being about alienation, anxiety, substance abuse and relationships. The lead vocalist, Justin Pierre, founder of the band said his lyrics are like this because of "being a self-obsessed pessimistic sort of loser."
I found this group while mindlessly listening to a Spotify station. Their song L.G. Fuad really drew me in, it was Timelines that really made me want to stick around especially since I got the song lyric tattooed on my leg.
Songs I Recommend: L.G. Fuad, Timelines, True Romance
MIKA
A solo artist from Beirut, Lebanon. He broke out in music in 2007. As a kid, he was bullied and had to be homeschooled. His music is inspired by being an individual and just not caring what others think. He takes all his inspiration from an outside perspective and writes songs for the people who are looked down on. Mika refuses to label himself with his sexuality and has stated "I consider myself label-less because I could fall in love with anybody – literally – any type, anybody. I'm not picky."
I found this artist while looking for more upbeat music about being an individual but also for more artist that were LGBT or supportive. The song We Are Golden is a serious bop that just makes you want to dance in your room blasting it. 
Songs I Recommend: Celebrate, We Are Golden, Blame It On The Girls
Rex Orange County
A solo artist from England. He started in 2016 on SoundCloud. His music is all self-expression where it all about the popular mental illnesses and the feelings that randomly comes to us when we feel like we are lower the rock bottom. The feeling of putting on a smiling face to mask the internal dread that makes us question why we even left our bed.
I found him randomly while typing random stuff into YouTube. I had the word Uno on my mind and happened across his song and it just clicked with me. I have the song on multiple playlists. 
Songs I recommend: Uno, Best Friend, Loving Is Easy
Mother Mother
A five-member Canadian indie band from Vancouver. They formed in 2005. The band's music touches on sensitive topics and is very relatable. The vibe their music gives off is an angry understanding of anxiety, depression, bad relationships, PTSD and self-image.
Their song Body really hit me one day when I was road tripping with a friend. It's an intense song that described the feelings I had when figuring out I was Gender Fluid.
Songs I Recommend: Body, Oh Ana, Bit By Bit
The Front Bottoms
A duo American punk band from Woodcliff Lake, New Jersey. They formed in 2006. The band touches on things like not fitting in, moving around constantly, relationships, anxiety, and depression. The feelings they put in their music are like they are writing you a postcard about their latest journey. 
I found them through the radio on channel 92.3 that plays alternative music. It's a mix of slower music with calmer vocals than most of the punk band, it's more like vibing than jamming out to music.
Songs I Recommend: Twin Size Mattress, Peace Sign, Peace
The Wombats
A trio English indie rock band from Liverpool. They formed in 2003. The band has songs for just about everything but center on common occurrences in college. Frat parties to Tinder to finding confidence again. Their music can go from being calming vibes to jamming out at a concert hall depending on the song.
I found them because of The Front Bottoms. They popped up as a recommended and I just followed through. The two bands have a similar vibe to them.
Songs I Recommend: Give Me A Try, Tokyo, Kill the Director
Leave a Comment
About the Contributor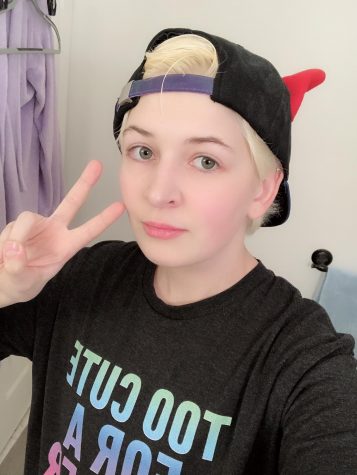 Randi Rooney, Impact Staff
Randi Rooney is a person.

"I enjoy long walks on the beach!" "6:30, eating dinner with myself; Seven o'clock wrestle with my self-loathing."

I live...