Mercy Choir to Impact School Identity
Music is something that can't be justified with a single definition. It is an expression of the soul—a pure and true form of art. Music is one of the most authoritative forces in the universe – it evokes emotion that can't be extracted in any other way.
One of the most powerful and important abilities of music is that it unites people, whether they are musicians or avid listeners. Music has always been a common bond between people. This past winter, such power was displayed at Mercy College as students congregated to share their passion for music.
Although there are many passionate musicians at Mercy College, this collaboration may be different from what one would expect. For the first time, Mercy has established a performing choir. The choir consists not only of approximately forty Mercy students, but also residents of the New York metropolitan area.
Dennis Bell, the musical director of the choir, is also a profound conductor, arranger, songwriter and producer. He has been recognized on the highest levels of the music industry and has worked with some of the world's most famous acts including U2, Lenny Kravitz, Aretha Franklin, and James Brown—making him an ideal candidate to organize the choir.
Bell has been an adjunct professor in the Mercy Music Technology program for the past fifteen years. Beginning an ensemble has always been a goal of Bell's, but starting it has always posed as a challenge. This year, the disheartening challenge would be lifted with the help of Mercy President Timothy Hall, who is also a music enthusiast.
"This is a wonderful opportunity for our students and neighbors to come together and share something beautiful.  The joy of music is something infectious and contagious.  I am so pleased to be part of this and thrilled to have Dennis Bell lead the way," Hall stated.
The importance of the choir is irrefutable; it reflects not only the culture of Mercy College but also the identity of the school. Like many schools, the identity at Mercy is highly dependant on academics and athletics. Having a performing ensemble gives the school a unique dynamic and appeals to a wider spectrum of potential and current students.
"It's hard to identify a school solely by its academics. Although they are important, a true identity is defined by sports and artistic ensembles," Bell says. "We need to have a really strong physical presence of something other than academics and athletics; that is what makes a great school."
"Working together and singing together is a cultural activity," he continues.
As many people may associate choir with classical composers such as Bach and Beethoven, Mercy's choir is taking a more unconventional approach. While still paying homage to choral masters, Bell plans to also put a contemporary spin on his arrangement, which includes styles such as jazz, gospel, reggae, and a surprising touch of heavy metal, promising to diversify the arrangement.
Though starting the choir is a triumph in itself, according to Bell there is still a lot of work to be done and more goals to reach. Some of Bell's visions include recording the choir, playing events within the Westchester community, and performing a concert at the end of the year when he will grant choir members the opportunity to perform solo pieces. The concert is scheduled to take place May 7.
Another goal Bell has is to collaborate with the Mercy Jazz group that is led by the music technology department head, Prof. Paul Steinman, who also assisted in forming the choir. The intent would be for the jazz ensemble to learn the arrangements performed by the choir to create a live band and choir combination for a fuller sound and to create some musical excitement on campus.
Although Bell has encouraged his students in the Music Technology program to participate in the choir in effort to expand their knowledge and enhance their ear for music, he urges students from any program with a passion for singing to join the choir.
The choir, still in its infancy, has room for exponential growth as Bell aims to acquire a group of 100-150 voices in the choir. "We have students who are interested in music and creative expression. The choir is a great opportunity for these students to get involved and take advantage of this resource," says Bell.
If any students who have a passion for singing would like to participate in the Mercy choir please contact Dennis Bell at [email protected] or Paul Steinman at [email protected]
Leave a Comment
About the Contributor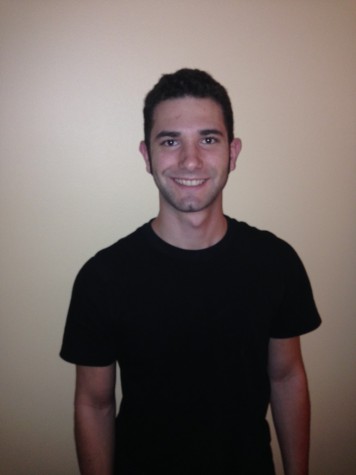 John Principio, Entertainment Editor
John Principio is a senior at Mercy College studying Public Relations. Even though he has never imagined himself as a writer, he has always loved to read...