I'll Be a Fifth Year Student and That's OK
Growing up, you always hear that college will be the best four years of your life – but for me, it wasn't.
I did a lot of growing during my college career. My growth included being in a toxic relationship, transferring schools, quitting jobs, and ending friendships.
Doing all of this helped me learn about myself and it helped me find myself again, even if it took an extra year.
Ever since the second semester of college, I wasn't my true self. I was this fake, unhappy version of myself and that was something I never wanted. I was a terrible friend and sometimes even a terrible girlfriend. My emotions and depression were in charge of every move that I made. Nothing came from me anymore. Instead, my anger, sadness, and nervousness took over.
One year ago today (Feb. 26), I found out that I had two more years of college. I was a junior at the time. It devastated me. I hated college, I didn't like anything about it. For me, it was surrounded by negative thoughts from my old school. I left my advisor's office holding back my tears and thoughts of being the fifth-year senior that I never wanted to be.
But today, I am much happier. I couldn't picture leaving Mercy after only two years of being here. I have surrounded myself with better people, opportunities, and love.
Mercy changed me to be a better version of myself. I regret ever crying about school or crying about being a fifth-year because I'd rather be here than be in the adult world.
Mercy presented opportunities for me that I thought I'd never have. I was an Orientation Leader for the summer of 2019 and hopefully for the summer of 2020. I am the social media editor of The Impact right now. I always dreamed of being a social media editor and showing my true passion.
I'm a published writer; I've written a front-page news story, something I thought I'd never do. I never thought I was good enough to be a writer for anyone, let alone an editor.
These negative thoughts that came with me from my old school fogged my imagination and fogged the way I saw myself.
I've done better in classes, better than I've ever done in my whole life. I had never seen A's and B's on a report card before I transferred to Mercy.
This upcoming March and April, I will be on a panel for Accepted Students Day where I'll speak about all the great things I've done here.
Besides school, my social life is so much better. I'm not friends with fakes anymore, I'm friends with people who care about me and my feelings. I'm friends with people who aren't there to make fun of me but to empower me.
There's no more sh*t talking, no more laughing at me behind my back. It's all support.
Sure, there are people who dislike me, but I don't care anymore because I have people who want to see me do well.
My life has done a full 360.
This is for all the fifth-year people, the people who were ashamed.
It will be okay, it's completely normal to not finish school on time. College is a time for you to figure out who you are, what you want to do, and who you want to surround yourself with. It truly doesn't matter how long it takes because you never know what opportunities will come from it, be yourself and own it.
I am going to be a fifth-year student and I am totally fine with it.
Leave a Comment
About the Contributor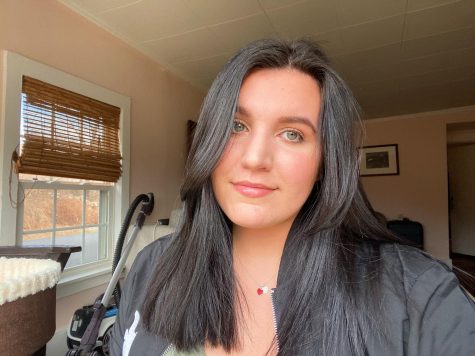 Alexis Lynch, Managing Editor
Alexis Lynch is currently a senior at Mercy College. At Mercy, Alexis is a Media Studies major with a focus in Journalism. She has gained experience that...