New Year, New You?
People all around the world make New Year resolutions every single year. Some people make resolutions to lose weight, quit smoking or become healthier; most of these resolutions in Mercy College are very hard to commit to.
The Lessing's food company in the Mercy College Cafeteria makes it very difficult to work on these resolutions because of the lack of healthy food that is available to students.
Being allergic to shell fish makes it difficult to eat in the café sometimes because there is always fish out in the café; I have had two outbreaks last year when I ate at the home zone. It wasn't anything too serious but the home zone is one of the only places to get a serving of vegetable besides the salad bar.
There are ways to avoid unhealthy things in this school but it isn't as easy as everyone may think. Whether you want to eat healthy or hit the gym, there isn't always a convenient way of doing so.
The only gym that is available for students of Mercy College is the gym in the Victory building. The gym is open Monday- Thursday from 11am to 9pm, Friday from 11am to 6pm and Saturday from 9am to 12pm; it is closed on Sunday. However, the gym is usually full of the athletes in Mercy College. The area is small and only has a minimal amount of exercising machines which makes it a very cramped space for everyone to share the communal gym.
I decided to ask around to see what people are doing for alternatives in order to stay in shape. Jackii Newman, a sophomore who lives on campus wants to stay fit but can't always keep up with the gym schedule so she goes for a run through the aqueduct all through Dobbs Ferry and then back to the dorms. She does this on the days she can't agree with the gym schedule.
Besides the food and the gym situation that students who have these resolutions are dealing with, smoking is a big thing on this campus. After doing a quick survey of 100 students around campus, there are about 62 people out of the 100 that do smoke.
That is over 60% of students that publically smoke cigarettes all over campus. Most people are seen smoking close to entrances of Main Hall, Mercy Call and even the Athletics Hall which makes it difficult for students who want to stop smoking to commit to it.
In my opinion, the best thing to eat in the Café is at the salad bar. There is a variety of vegetables and different salad toppings that you can get to make a healthy choice. Also, if you aren't allergic to things and you want to mix it up you can try to go to the home zone and get a side of vegetables that are grilled or raw to eat instead of french fries. Water is vital to a healthy diet and you should drink water or even natural juice instead of soda or artificial drinks.
Pick up a bottle of water as soon as you enter the café so you don't get tempted to buy other drinks. Look out for new dishes at the home zone because eating the same thing all the time is boring and frustrating. Stop by the salad bar to check out what they have or go to the sandwich zone to make a healthy wrap. Whatever you do, stay away from the grill! It is tempting but unhealthy and unnecessary. Go for a jog if the gym is full. Try to stay away from people who smoke if you want to quit; stay away from the areas that everyone smokes by and take an alternative route.
There are always way you can try to be healthy even if you think it is nearly impossible. Good luck and stay strong!
Leave a Comment
About the Contributor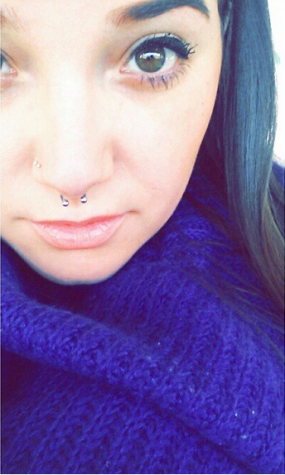 Erminia Errante, Senior Editor
Erminia Errante is FINALLY A SENIOR with an English Education major and a journalism minor. Living in Brooklyn, she has a passion for writing and loves...