Why Kanye West's "JESUS IS KING" is No Second Coming
Kanye West has always been a man everyone has talked about. Whether he's rapping, producing or even singing, Mr. West's presence has always made a strong impact on the world. However, in more recent years Ye's purely solo musical output has been pushed to the side in a way. The world is now more focused on Kanye's persona as opposed to his artistry. And for good reason, it seems like Yeezy can't go through a single day in the public eye without saying something controversial.
Some recent examples include his support for President Donald Trump, his claims that slavery for black people was a "choice" or his most recent outburst where he states that Democrats have "brainwashed" black America into "abort(ing) their children".
However, we live in a different time now, Kanye West is now a born again Christian. He has spent the last year touring around the world putting on free shows with a giant choir and a live band which he deems as "Sunday Service". At these shows, he covers gospel standards and performs his own back catalog and other secular music, both of which he changes up lyrically to be more "christ-like". He has yet to apologize for his past wrongdoings; in fact, he often doubles down on his statements. Not only that, but he charges exuberant amounts of money (over 200 dollars) for merchandising with Jesus's name and image on them. When putting these two things into account, it's easy to see why some people don't find this idea of a "born again Kanye" convincing.
It gets hard to remember when looking at Kanye's recent output, but Kanye started out his career as a devout Christian. His first album contained the hit single, "Jesus Walks", which was about Mr. West desperately pleading to God to "show (him) the way cause the devil's trying to bring (him) down". It was the death of his mother and the downfall of a relationship that led to a decline in sanity and an increase in hedonism. It was the fellow artist Chance The Rapper (wasn't satisfied with ruining his own recent record I suppose) who inspired him to return to the church after the pair worked together on one of the best of Kanye's recent efforts, 2016's "The Life Of Pablo".
The existence of "The Life Of Pablo" is one of the worst things that can happen to this new album. "The Life Of Pablo" was advertised as a gospel album by Kanye. Yet while it had lyrics about having sex with models with "bleached assholes" and similarly hedonistic and vain lyrical content, the album still felt true to the spirit of who Kanye was and maybe still is. A sinful man who explores whatever interests him while still trying to repent for his downfalls as best as he can. And really, isn't that what we all are, sinners who try their best to overcome their wrongdoings, no matter if they're big or small?
"JESUS IS KING" does not feel as honest or even as a testimonial as that record. In fact, it's safe to say that Kanye is often the worst part of this record. While this record is sonically interesting and contains some of the most experimental production in his whole discography, the beats and instrumentation are often doing more work than Kanye is. Tracks like the atmospheric psychedelic funk of "Water" and the video game trap of "On God" are besmirched by empty and bored sounding Kanye verses talking about empty prayers or issues with taxes and high merch sales. I mean come on, dude, we all know that you're pretty well off financially now. I don't want to hear you complain about how high your taxes are on a record where you're supposed to be opening up about how God has affected your life for the better. When talking to people about this record, it surprises them that I expect "good lyrics" from a Kanye West album. His lyricism has never been his strong suit; this is true. But in the past, it at least sounds like he meant what he said and delivered it with conviction and energy. That is very much not the case here.
However, that's not to say that Kanye doesn't try at all. There are some moments where Kanye is very inspired by this album. Two tracks that come to mind include "Hands On" and "Follow God". "Follow God" features a classic sped up Kanye soul sample with some distorted 808 beats over which Kanye delivers a classically anxious yet comedic rap verse about arguing with his dad about being "christ-like". The song concludes with a much-deserved scream of release before it can even make it to two minutes in length. "Hands On" (probably the best and most innovative song on the whole record) has reversed guitar stabs, robotic autotuned chorus vocals by both Kanye and singer Fred Hammond, muted synth chords and no drums making it the most interesting beat and hook on the record. On this song Kanye tackles police brutality and how the system treats African-Americans ("Got pulled over, see the brights/What you doin' on the street at night?/Wonder if they're gonna read your rights") but also addresses the feeling of being in an outcast amongst your peers. This particular verse is perhaps the most poignant of the whole album:
"Said I'm finna do a gospel album
What have you been hearin' from the Christians?
They'll be the first one to judge me
Make it feel like nobody love me
They'll be the first one to judge me
Feelin' like nobody love me
Make you feel alone in the dark and you'll never see the light
Man, you're never seein' home and you never see the domes
I can feel it when I write, point of livin' in the right
If they only see the wrongs, never listen to the songs
Just to listen is a fight, but you booked me for the fight
It's so hard to get along if they only see the slight
From the love of religion
What have you been hearin' from the Christians?
They'll be the first one to judge me
Make it seem like nobody love me"
I find myself going back and forth on whether I can truly get into this album, and this could be mainly because this is not the first version of the album I heard. I was lucky enough to get a ticket to go to a free listening party Kanye held for this album in New York City a month or so before the album's eventual release. The album I heard that night was a lot better than the one we got. It's best moments were still there such as the scream on "Follow God", the whole of "Hands On" and the transcendent choir vocals and backbeat of "Water", however, some of the other tracks were less skeletal. The track "Use This Gospel" for example, felt less choppy in it's mixing, letting the outro where the drums finally kick in ride out way longer so we can feel the power of the classic arena-style chant Kanye laid down on the track. Also, tracks like "Selah" were delivered with more intensity when it came to Kanye's rap verses, as opposed to the tamer one we got on the final product. However, the biggest omission was a track called "Up From The Ashes". This track was the original opener of this album, and it was quiet, calm, groovy and reflective. It showed Kanye reflecting on his own pride and a desire to be saved and be better than who he was. This track was cut from the album, and instead of this nuanced song to take us into the record, we get a brief two minute cover of the gospel standard "Every Hour". The track is bouncy and delivered dutifully by the choir and pianist, but it feels slightly brainwashed. The album no longer opens with a questioning Kanye who wants to be saved, Kanye is already saved. The removal of "Up From The Ashes" I think is a very good summarization of the lack of complexity on Kanye's part that puts a damper on this whole album.
I can firmly say that every time I have decided to give "JESUS IS KING" a spin, I have a different reaction to it. Sometimes I think it's dumb, vapid and irritating. Other times I'll put it on and pick out the best parts and let the power of those amazing moments wash over me. And other times, I find myself grooving to (almost) the whole thing. Even the stupid songs like "Closed On Sunday" with it's stupid hook about how you're closed on Sunday just like chick-fil-a (a metaphor that doesn't make sense mind you because who is he even talking to? And what does he mean by them being closed?) I'll find myself vibing out to. If this album is anything, it certainly is an interesting listen. However, after living with it for a couple of weeks, I can firmly say that maybe this album doesn't have enough highs to make up for its lows. Maybe it's just that I'm not religious, but I find myself wanting to like all the tracks, but having certain elements of most tracks prevent me from getting all the way there. However, I can see someone who is very religious digging this album a lot and if you see greatness in it, more power to you. For me though, it's among Kanye's worst albums. Wake up Mr. West, you've been asleep for too long.
Secular Rating: 2 stars out of 5
Non-Secular Rating: 2 1/2 stars out of 5
Top 3: "Hands On", "Follow God", "Water" ("Water" mainly for Ant Clemons and not for Kanye)
Worst track: "God Is" (I'm sorry but Kanye isn't that good of a singer, a sample can't save a song)
Edit: Since this review on October 31, 2019 Kanye re-mixed the entire album and actually made it worse in some areas, causing me to lower my score by one star.
Leave a Comment
About the Contributor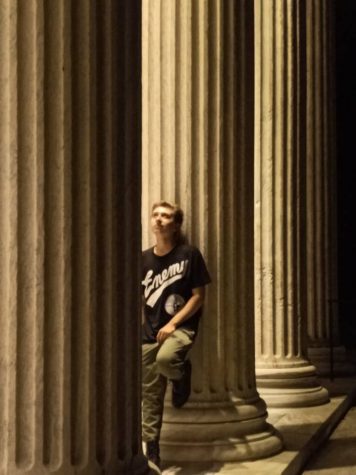 Jack Seda-Schreiber, Entertainment Editor
Jack Seda-Schreiber is the entertainment editor for The Impact News.

Born in New Jersey, Jack has an almost encyclopedic knowledge of music and a wide...