Beck's "Hyperspace" Is A Flawed, Yet Impressive New Flavor
Ok kids, get out your books and take some notes on this. There will be a test.
Beck is an artist who has been around for a long time. The man has come a long way from forcing his way onto stages at DIY shows with just a guitar and a harmonica. Almost pegged as a one-hit-wonder for his artsy white boy rap-rock crossover, "Loser", Beck has leaned into his ever-changing whim, leading him to have a large and diverse catalog that spans almost 30 years. This whim first majorly guided him to a lo-fi alternative hip hop/rock/folk magnum opus called Odelay! which combined noisy feedback guitars and country bluegrass harmonicas with funky brass sections, elements of psychedelia, and sampled breakbeats all of which were brought together by Beck's various ever-changing vocal outfits of folksy songwriting, punk screaming, weird rapping, and charismatic frontman charm.
His creative process then pointed him toward making a weird and almost sarcastic take on soul/R&B music, which also combined influences from hip hop, post-punk/new wave, German electronica, funk, and even country on the album Midnite Vultures. The album, which included songs about breaking the "Sexx Laws" and a slow jam about getting with a girl and her sister ("Debra"), was nominated for Album Of The Year at the Grammys.
Afraid to be pegged again as an "oddball" artist, Beck changed his direction once more. Inspired by a recent breakup, Beck made a heart-wrenching album inspired by psychedelia and folk music called Sea Change. Ever since then, Beck has been trying to balance his two sides: the serious singer-songwriter and the fun genre-bending chameleon. This has sometimes resulted in success (Guero, The Information), and new sonic territories (the mid-2000s got a garage-rock phase from Beck with his album Morning Guilt and his raw contributions to the soundtrack of the movie Scott Pilgrim Vs. The World), however, it has also led to a lot of artistic failures.
The sad fact is that these failures have been his output throughout this decade. His 2014 album, Morning Phase, proved to be a boring retread of the folksy sound of Sea Change only without all the factors that made it interesting. And his last album from 2017, Colors, is one of the most disappointing records ever made, filled to the brim with uninspired pop and baffling trend-chasing production choices. It's a valid argument to say that his recent output has killed a lot of his credibility as a name people will remember, especially in my generation. So, when I heard the news that a new Beck record would be coming earlier this year, I wasn't too excited. However, the record we got is a lot better than anyone expected.
Beck's records have always been heavily influenced by their producers. Beck's production team has included in its ranks: hip hop sampling pioneers The Dust Brothers (Beastie Boys) and industry powerhouses Nigel Godrich (Radiohead) and Danger Mouse (Gorillaz, A$AP Rocky, U2, The Black Keys, MF DOOM, Portugal. The Man, Parquet Courts, Norah Jones, Jack White…the list goes on). This time, Beck's producer is the legendary hitmaker, Pharrell Williams. Beck has wanted to work with Pharrell ever since his Midnite Vultures days, and with Pharrell having recently become a pop star in his own right, the pair have tried to keep up communication throughout the 2010s. It's easy to see how a Beck/Pharrell record would work. Pharrell himself has been a genre-bending mastermind ever since the days of his old band N.E.R.D. and production duo The Neptunes. Also, unlike Beck, Pharrell has done a better job of shifting his sound to fit in within the new decade without selling a piece of his own sound.
The record we got was an unexpected one. On paper, it's a fusion between a Pharrell-style hip hop record and a Beck-style singer-songwriter reflection on a recent breakup. However, the sounds we hear on this album aren't similar to many of the sounds Beck or even Pharrell have created before. On Hyperspace, Beck and Pharrell combined contemporary pop music and trap sounds with atmospheric psychedelia, electronica, and singer-songwriter chord progressions. The album opens with an under two-minute intro of ambient synthesizers while Beck vocalizes over it towards the end. This leads into a trippy pop ballad called "Uneventful Days" which features Neptunes type percussion over atmospheric synthesizers and a rather peculiar Beck vocal. Beck's vocals on this song are simultaneously overbearing and under-bearing. They are processed and manipulated to an almost inhuman extent throughout this record. He sounds like a pop music robot. Yet, later on in the record, this vocal effect yields new emotions from the artist. On that track, it doesn't work, making for an odd, pretentious start to the album.
Next up we have "Saw Lightning", a throwback to the country-infused oddball rap that made Beck famous, only with a modern twist. It features some classic Pharrell-isms in its productions with its thumping low-end and marching band type percussion. It even includes a surprise rap verse in the middle; a trick Pharrell used to pull a lot on his old production songs. It also includes some cool trippy piano chords and expectedly cool Beck slide guitar and harmonica. However, something about it seems off. It feels more like this track is here to remind us it was Beck who invented the country/rap crossover thing. In an era where Lil Nas X is one of the biggest pop stars in the world, it would make sense for Beck to throw his cowboy hat and boombox back into the game. But because of this, the track feels like a retread. Why listen to this when I could just listen to Odelay! which, in fact, sounds better? It's not a bad track on its own, it's fun actually, but having it sequenced this early throws the album off its rhythm; a rhythm it has yet to find.
After that, he gave us another forgetful pop tune, "Die Waiting." While it has a cool chord progression, it's chorus and production feel cheesy. Its acoustic guitar feels unwanted and its trap drums and automated Beck vocals get annoying. But then, after this, the album miraculously finds itself. On "Chemical," we get some amazing synths over a smooth Pharrell beat, which combines old school R&B snaps with skittery trap hi-hats. All of this takes place over a minimal, yet emotional Beck-hook. It compares love to a chemical and uses a powerful acoustic guitar. Backed by some cool electric guitar playing, it makes for a similar emotion to the ones that Pharrell evoked on some of his old ballads. It's easy to forget Pharrell's passion for ballads whether it be N.E.R.D.'s grand track "Love Bomb," or his beat for Frank Ocean's psychedelic trip, "Pink + White." However, it's Beck who sells this song, not Pharrell. The second half features an unexpected return of rapper, Beck, bringing in a flow that reminds me a lot of Frank Ocean's "Biking," showing that Beck's ear for contemporary influences is still there. It also shows that Beck still has an oddball rapper in him, one that may have even gotten better in a technical way than he was back when he rapped regularly.
He continues this experiment with the next track, "See Through." This one could be a big hit if Beck plays his cards right. Backed by a trippy hip-hop beat that could easily fit on a modern rap album, Beck shows a new sing-songy flow, equal parts pop crooner and R&B auto-tuned rap crooner. He delivers skillful verses that leave space for the listener to feel the beat overtake them, then he tops it all off with an amazingly catchy hook about his object of affection seeing right through him. Beck has never sounded like this before, it's an astounding surprise to hear and a real left turn for an artist as established as he.
After an unwanted return to the motif of the first track on "Hyperspace" (an odd choice for a title track), we get what is probably my favorite track on the album: "Stratosphere." Over a raw sounding electric guitar (well, raw sounding for an album like this anyway), we get a continuation of Beck's intergalactic themes in his lyrics. As the song goes on, some amazing synths and phased out piano melodies come in. The track makes me feel like I'm floating through space; alone and heartbroken. It's an amazing feeling; one that I didn't think Beck was still capable of creating. This then, brings me to my next question: is this album actually good or is it just better than most of the recent work we've gotten from Beck? Would I give this album a good review had it come out immediately after albums like Odelay! or Modern Guilt, it's hard to tell.
As the album approaches its close, we get more astonishing cuts like "Dark Places," which provokes a Sea Change era feeling with some cut up Pharrell drums, and bleak and cold synthesizers taking over the song. It's a very nice feel. "Star," which is a brilliant David Bowie pastiche, shines as bright as the title implies. But then it closes the same way it starts. "Everlasting Nothing" is too long and takes itself way too seriously. Beck sounds more like Phil Collins on it than he does himself. However, unlike "Uneventful Days," which at least has some interesting production and is rather inoffensive overall, this track is five minutes and overstays its welcome a minute in. It has me reaching towards the skip button, and it's the last track that the album leaves us with.
Hyperspace has a lot of highs that will leave you floating in space forever. But its lows will cause you to go crashing towards Earth at the speed of an asteroid. It's a good album; one of the best that Beck has released in a long while.
But is that saying much?
Only time will tell. For now, though, I'll continue to let it overtake me.
Rating: 3 1/2 stars out of 5
Top 3: "Stratosphere," "See Through," "Chemical"
Worst Track: tough choice, but it has to go to "Everlasting Nothing." Stiff competition from a couple other of the tracks though.
Leave a Comment
About the Contributor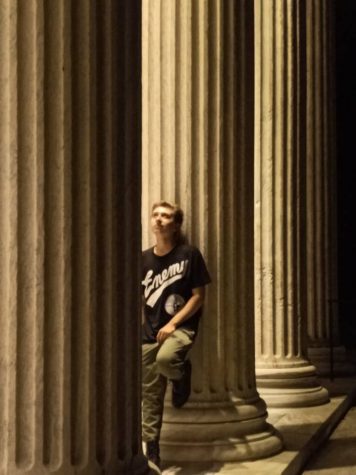 Jack Seda-Schreiber, Entertainment Editor
Jack Seda-Schreiber is the entertainment editor for The Impact News.

Born in New Jersey, Jack has an almost encyclopedic knowledge of music and a wide...