McNally Providing Senior Leadership For Lacrosse
Sitting off to the sidelines, Kevin McNally watched as the game was tied, 16-16.
The anxiety was building inside of him as he knew this game would not only send University of Albany further into the American East Finals (AEF), but it would tell the fate of his lacrosse career.
With many thoughts racing through his mind, the game rolled into overtime. McNally prayed his teammates would pull through and win.
His prayers were quickly answered 30 seconds into the overtime as they won, 17-16.
Not only did UAlbany go to the AEF, McNally became redshirted and was given the eligibility to play another season.
"I was ecstatic," McNally said. "It was a major relief."
The now, Mercy graduate student studying school counseling, wouldn't be where he is as a Maverick, if it weren't for that game and his dedication to the sport.
"It's always been my dream to play Major League Lacrosse since I was little," he said with a spark of determination in his eye.
McNally gets his love for lacrosse from his father, who's been the varsity coach at Suffen High School before he was even born.
"For as long as I can remember, I've always had a lacrosse stick in my hand because of my dad," he said. "I wasn't like most kids where they play on Little League teams. I stopped at tee-ball."
Later on, McNally wrestled and played football in high school, alongside lacrosse. He was even offered many opportunities to play college football, but didn't take them as lacrosse handed him more opportunities.
"Lacrosse was just my avenue," he said as he described he's not one to sit and play video games or watch TV. "I'll sometimes go to the side of my yard and play for a few minutes. No shoes, no gloves, don't have to strap a helmet on. I just play," he let out a laugh. "Five minutes turns into two hours."
He started his collegiate lacrosse debut under the lights at University of Albany, as a Division I athlete. It was soon put on hold after suffering an injury during his sophomore year during practice.
"I was running behind my teammate and tripped on the back of his foot, fell and hauled off the field," McNally said. "I thought I could run it off but it kept hurting, that's when I knew something was wrong."
After limping off the field, the trainer tested him and tests all proved McNally tore the labrum in his hip.
"I just remember thinking 'this is crazy.' Guys tear their ACLs and ankles all the time, but this?"
Many questions clouded McNally's mind. 'How long will this process take? What do I do? Do I need surgery? Will I play again?'
"I was upset," McNally said softly. "I struggled that year academically and mentally."
After having surgery and going for rehab, now all he needed to do was wait. Since he played five out of a fourteen game season, he initially played more than a third of the season, not qualifying him to be redshirted just yet.
"My team needed to go far in the season to get me redshirted, so it came down to one of the last games when we went into overtime," said McNally.
"I remember thinking off to the sidelines, 'If we lose, I don't get it. But if we win, I get it.'"
The team eventually won after 30 seconds into the overtime period and McNally says that was one of the better moments in his lacrosse career, knowing he could play another year of the sport.
"It was such a relief because I was able to focus on everything I needed to."
Returning the following spring, he admits he was a bit out of shape and nervous, but was glad to finally be back in the atmosphere of the sport and didn't let the injury cloud his mind anymore.
When it came to his senior year, McNally knew he still had another year to play, but came to the decision to stay local for his graduate and found himself at Mercy.
"My sister went to Mercy, so I was familiar with it but I also loved the atmosphere and color of that was brought to the field," he said.
Playing for Mercy did bring change to McNally as he transitioned from playing Division I to Division II lacrosse, as far as teammates and competition.
"I played with those teammates at Albany for four years and knew them like the back of my hand," McNally said. "These guys, I've only known them since the fall. I don't know them as well in that sense. But whoever I'm playing with, I always have a connection with, so it's not really a challenge," he assured.
While he played for Albany, McNally explains that they played against great teams, but no one ever had the thoughts of 'Oh they're going to beat us.'
He tries to echo that sentiment at Mercy. "I try to tell my teammates to view it as an opportunity to win a game and play against a good team," McNally said. "Because anyone could beat anyone."
Though none of that is much of a challenge to McNally, he admits he feels he brings a lot of attention being a former Division I athlete, but tries to bring as much athleticism as he could.
"I may not be the most skilled guy who can put the ball in the net," he said as he explained drawing attention is good for his team.
If McNally were to draw a slide or two, one guy already has defense on him, but then another comes to do the same, leaving one of his teammates open.
"When that happens, it gives the team an opportunity to win games."
Though it's not just about winning, McNally tries to fulfill a bigger role as he makes sure to set an example for his fellow teammates. He always offers advice to the underclassmen and teammates that don't always get their chance to shine on the field, which extends past lacrosse, as well.
"We all practice as a team and beat ourselves up to be better on the field," McNally began to say. "It may seem like at the end of the day, some don't get to play and question themselves, 'Why am I even playing this?'"
"But if it weren't for those guys, they're the ones helping the ones who do get to play, play better," he continued. "When I got hurt, it was a long season, but someone stepped in my place and got their opportunity to play."
"You never know when your opportunity is and you have to keep fighting because it will be worth it."
'Keep fighting because it will be worth it' is also how he views the opportunities the Mavericks have this season at their chance at the ECC.
"We have a lot of talent offensively and defensively to get far into the competition," he said. "That's what is keeping me motivated."
Mercy men's lacrosse was ranked No. 13 earlier this week in all of Division II according to the United States Division II Coaches Poll. Mercy is now ranked No. 17 in Nike/U.S. Lacrosse Magazine D II poll and the top 20 of the USILA coaches poll.
They remain No. 13 after they suffered a loss 8-4 to the defending national champion No. 1 Le Moyne.
"The game didn't go as we planned, but it was still a great game," McNally said.
***
As McNally and the rest of the Mavericks are lined up for the National Anthem, he prays for a few minutes for a safe game.
"Even though it's a competition, I pray for my team and the other. You never want to see someone too hurt, where their career is in jeopardy," he said. "Trust me, I was there."
Though McNally was in that frightening stage and doesn't want to see anyone else hurt, he feels as though his injury was a blessing in disguise. Not many athletes get the opportunity to play Division I and Division II during their collegiate years, but he did.
McNally is ready to turn the page of being a collegiate athlete, even though he's unsure of what's to come next.
"I've spent my whole life being this prominent student-athlete, something I prepped for, for so long," he began to say. "My parents spent so much time and money, and just the thought of my last game coming around, it's like, what do I do?"
"I've played lacrosse my whole life, I don't know anything other than it," he said softly. "But I'll cross that bridge when I get there."
One thing McNally knows for sure is that he can't wait to have a son of his own, so he could put a lacrosse stick in his hand at a young age, like his father did with him.
"Not anytime soon, though," he said with a laugh. "But one day."
Leave a Comment
About the Contributor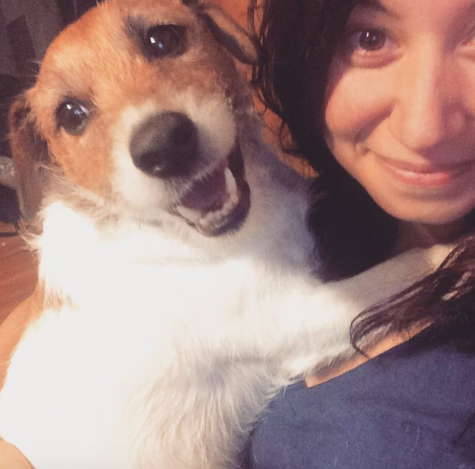 Kayla Simas, Managing Editor
Kayla Simas is a Journalism major at Mercy College. She's from the forgotten borough of New York - Staten Island. She's an avid coffee drinker and enjoys...