Skinny Pelembe is a New Artist to Watch
Skinny Pelembe is possibly the best new artist right now. With a sound that combines elements of post-punk, indie rock, afrobeat, dance, trip-hop, hip hop, dub reggae, and electronica, it makes an exciting new area of music special to him and only him. Therefore, I was incredibly excited to sit down and talk to Pelembe over the phone about his debut album, "Dreaming Is Dead Now," which came out late last year.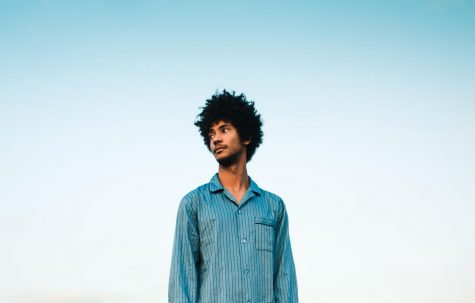 Growing up in the United Kingdom., his family played a huge role in not only shaping his diverse sound but also his stage name.
"My older brothers were break dancers, and the music that came with that was one thing that impacted me. My dad was mad into the country, like Johnny Cash and stuff. I was the middle child and I've always been a bit of a people pleaser, so I kinda wanted to do something that my brothers would like and also what was 'proper,' that my dad would be into. Pelembe is my family's name, and I used to be underweight. My cousins used to tease me and call me 'Skinny Pelembe' and this is my way of getting them back. Now they can't find themselves on google without my face popping up right in front."
https://www.youtube.com/watch?v=csgEmKsv0Yo
Pelembe worked on his debut album, "Dreaming Is Dead Now," over a two-year span and the songs took on many transformations.
"A lot of these songs started off as hip hop beats or drum and bass I used to make. And then when I developed my own musical voice and character, the older ideas started happening with the newer ideas in the same place. I got the old band to come into the studio and jam over that. Unfortunately for them, I only ended up kinda using them for only one percent of the record, like a snare or a kick here and there. I was playing with them at the time and it was a kind of nice to have a snapshot of them on the record, like on 'I'll Be On Your Mind.' The rest is just me. There's a lot of Chloe Beth Smith on it as well, who plays keys in the band now. She plays with Bryan Ferry and strings arrangements and other stuff. She added quite a lot to the album."
https://www.youtube.com/watch?v=3brd5o8yySY
"I'll Be On Your Mind" is the song that got Pelembe into the spotlight after his appearance on the YouTube show "COLORS," a music program that specializes in showcasing new artists against a painted color wall.
"I don't know how that really happened. They emailed the very last minute. We had a week to figure something out. I felt like I didn't really belong in that world with so many people who are amazing like Sampa the Great, who killed it. It's more R&B, rap orientated. I felt like a nerd going to a cool party. Everyone was telling me to sing over the track as everyone else does, but that's not me! I'm not even a proper singer! I figured it out with the NPC and it was fun; a really cool experience. After doing it, I felt a little bit more validated."
https://www.youtube./watch?v=3ZdOsnc88zk
On "COLORS," he performed a different version of the song. Using his suave and vampiric voice to deliver the almost rap type vocal over samples and drums that he chopped up live. Stripping the song of its female sung hook, Pelembe instead sang the hook himself, all while playing multiple guitar parts that he overdubbed over one another and still chopping up the samples on his NPC. It's an amazing performance done skillfully by a young master at work. He then followed this new exposure by releasing another single from his record, "My Love, Is Burning Down." Only it wasn't the album version, it was yet again another alternate version. It even came with a slightly tweaked name, "My Love Is Burning, Up."
"Sometimes, I'm just kinda making stuff and there's a nice texture in the outro or the intro, and I feel like I'd be wasting it if I didn't use that little section. I feel like all the tracks have a companion track, or a part two. For that one, though, the label asked me to do a vocal version. And it took a while, that one. It is one of my favorites, but it isn't. I finished the track the day before mixing, super last minute. It was a surprise. It worked out nice."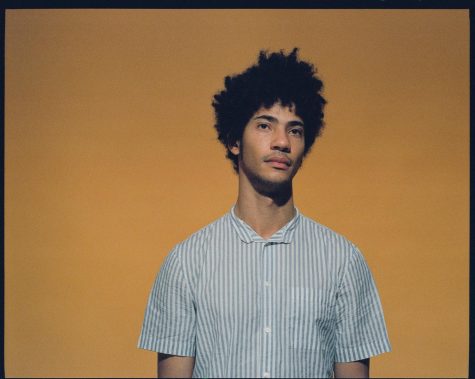 Pelembe is very busy right now. He's considering whether to take up the invite to this year's SXSW while touring Europe ("monetary struggles, ya know"), all while simultaneously working on his second album.
"I've been working with a lot of orchestral musicians. I wouldn't wanna say that it's gonna be a 'strings' record, but I wanna say it will sound closer to the original 'Jungle Book' soundtrack. All the music in that is fucking amazing, even the silly music. The 'Trust in Me' thing, I feel like I try to copy it in every single thing I do. I can't get over the music in that film. Hopefully, it will sound like the 1967 'Jungle Book' soundtrack."
Skinny Pelembe's debut record "Dreaming Is Dead Now" is out now on all platforms. Stream it here:
https://open.spotify.com/album/10aA5gtWaWo8LkKvNQTcvC?si=UE1bxTljQxazfYEoQFmE2Q
Leave a Comment
About the Contributor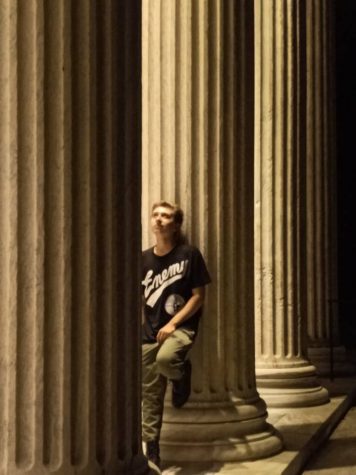 Jack Seda-Schreiber, Entertainment Editor
Jack Seda-Schreiber is the entertainment editor for The Impact News.

Born in New Jersey, Jack has an almost encyclopedic knowledge of music and a wide...