The Return of the "Black Mamba"
One of the top 10 all time all time greatest players was witnessed Sunday December 8th. Kobe was introduced back in the line up to the sounds of John Williams, "Imperial March." Even if you were not a Kobe fan, as long as you were a basketball fan you watched this game.
Everyone felt that Kobe Bryant was going to drop a double nickel against the Toronto Raptors. In a 106-94 loss, Kobe dropped nine points on 2 of 9 shooting. He also turned the ball over eight times. After watching Kobe's first game back one could suggest that Kobe still has a lot of work ahead of him before he is back to his "Black Mamba" form.
After reading those stats, you would think that his return was all bad and he is the reason the Lakers lost. Actually there are a few positives that the Los Angeles Lakers organization could take away from this game. Kobe Bryant came out the first quarter looking to facilitate a lot more then he usually does and made more than a few great passes. Some of those passes also contributed to his amount of turnovers because he tried to force a few. He tallied in four assist on the night.
Another good sign that the Lakers can take away from the game is that Kobe was not lying, his Achilles felt pretty good. Kobe Bryant rebounded the ball relatively well for the Lakers. He grabbed eight boards which showed his Achilles held up and gave some pretty good lift.
Nine points, eight rebounds, and four assists is not a bad stat line for a 35 year old who hasn't played basketball in eight months and is recovering from a torn Achilles which many players do not come back from.
Will Kobe Bryant go back to his killer form and can he lead the Lakers back to their third NBA title in ten years? Only time will tell. I have the utter most confidence in Kobe Bryant that he will get back to his unstoppable level. Kobe Bryant wouldn't stick around if he thought that he cannot dominate the game like he usually does.
"What do you think that I am going to stick around going from team to team chasing a 6th championship ring and averaging 18, 19 points per game? Hell no, I'll retire before I do all that," says the five time champ Mr. Bryant.
Kobe is playing relatively good for somebody who has not had a game in the preseason. Kobe has had three games when he was in the 20 point range and has had three games in the single digits. So far Kobe averages 13.8 points per game, 4.3 rebounds per game, and a career high of 6.3 assists per game.
If you ask me Kobe is well on his way back to being back on top. Not to mention that the Lakers have the best overall record since the return of Kobe Bryant.
"We're going to have to carry Kobe a little bit, because of course he's not 100 percent, not in game shape," said Xavier Henry, who scored 17 points. "It's going to be fun. It's a long year, and he's just getting back."
The Lakers look forward to playing with the great Kobe Bryant.
Leave a Comment
About the Contributor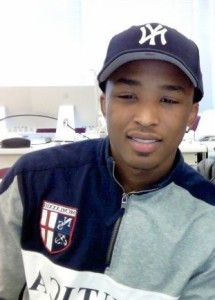 Trifton Rose, Impact Staff
Trifton Rose is a Yonkers native who is a senior at Mercy College and majors in
broadcast Journalism. He is a member of the men's basketball team. Trifton ...