Isaiah Austin: Leading the Blind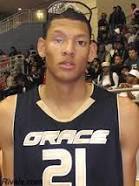 How far would you go to chase a dream that you have believed in since you were a child? What if an experience changed your life forever and almost crippled that dream forever? Would you still chase it?
These are a few of the things that the 7ft 1in big man out of Baylor University Isaiah Austin had to think about. Besides the facts that he was bigger than everybody there was something special and unique about the giant athlete. He only has half of his vision. Isaiah Austin is literally blind out of his right eye.
During a middle school game Austin went up for a basic dunk and unfortunately detached his retina in his right eye. "All I seen was red" said the giant athlete. "I couldn't believe what the doctors were telling me, I dunked the ball a million time before" Austin said.
After many surgeries doctors could not save his vision. Isaiah Austin was in a depression for about a year and a half. Knowing that he could never play basketball again devastated him.
One day his mother went up to his room and told him "you can either make this your story, or you can make this your excuse. You can touch lives or you can be a quitter" said his mother.
Austin didn't know what she meant at first but he knew he was not a quitter. Austin started practicing again. He said "it was the hardest thing in the world to me to make a basket, either I was shooting to short or I was just completely missing, it was like I was starting from scratch."
Austin started to get better and better and landed himself a full scholarship to Baylor University.
Austin did not tell his coach about his condition until he had already committed to the University. His coach yelled at him for not seeing a player do a back door cut to him in his peripheral vision when he revealed that he was blind in one eye. His coach Larry Drew was in shock and said "this is the first time I ever had to coach a kid defensively like he is a football player, I always tell him to keep his head on a swivel now." After receiving this knowledge he knew that he had one of the toughest division 1 big men in the country.
Austin can and does motivate and inspire kids who go through similar things that he went through. If I was a kid who was losing his vision or something of that sort his story would touch me enough to motivate me to keep going. Isaiah Austin often reveals his prosthetic eye when he goes to local middle and high schools to tell his story.
There is no reason why anybody wont chase their dreams.
Isaiah Austin averages 11 points, 6 rebounds, and 3 blocks a game and is an NBA prospect. Not bad for a guy with one eye.
Isaiah Austin has not yet declared for the NBA draft but is still a complete success in my eyes. After hearing this story Austin was immediately one of my top 5 favorite players in the NCAA. Keep pushing Isaiah, I'm rooting for you.